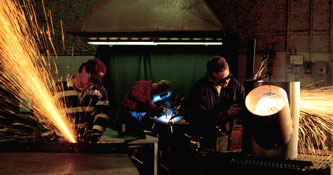 Craftsmanship and customization.
Nowhere is the Butters-Fetting dedication to customization and craftsmanship more evident than in our Fabrication division. It begins with our team of managers who can help you design parts for specific applications. Utilizing advanced automation tools, they will provide you with complete CAD drawings and documentation.
At the manufacturing stage, our experienced craftsmen will work with you to create products to your exact specifications and tolerances. Our state-of-the-art shops are equipped with computer-aided systems and other cost-effective tools for precision manufacturing. Furthermore, fabrication in our own facilities provides greater quality control, cost savings and scheduling advantages.
Butters-Fetting is versatile in all areas of pipe and steel fabrication. Our capabilities include skid mounted systems, modular piping assemblies, flow transfer panels, instrument panels, and furnaces and burner assemblies.
Areas of fabrication
Pipe
Structural
Plate
Sheet metal
Sanitary
Electrical instrumentation
Processes
Pipe and tube bending
Threading
Grooving
Beveling
Certified welding
Arc, MIG, TIG welding
Sawing—16" diameter
CNC plasma arc cutting with CAD
Plate cutting
Shear—1/4" x 10'
Press brake work—110-ton
Plate rolling
Lathe work—16" x 80"
Iron worker—50-ton
Materials
Steel
Stainless steel
Aluminum
Copper and brass
Plastics
Fabricated products
Frames

Carts
Sanitary products
Non-ASME tanks
Special fittings
Y laterals, tee wyes
Large radius elbows
Sand elbows
Headers
Burners
Coils
Gauge boards
Replacement/repair
[click: See Our Complete Service Listing]